WELCOME TO HASSLE-FREE UNIFORM, FLOOR MATS, AND LINEN RENTALS
Superior Service Above All
Since opening our doors, we have prioritized superior service above all else. After all, superior is in our name – which is not by accident. Our name is our promise. It is our belief that providing our clients with superior service helps them to be superior in their businesses. It is this belief that has driven our continued success for the last 50 years, and it is our commitment to providing our clients the utmost in service that will drive us forward for another half-century.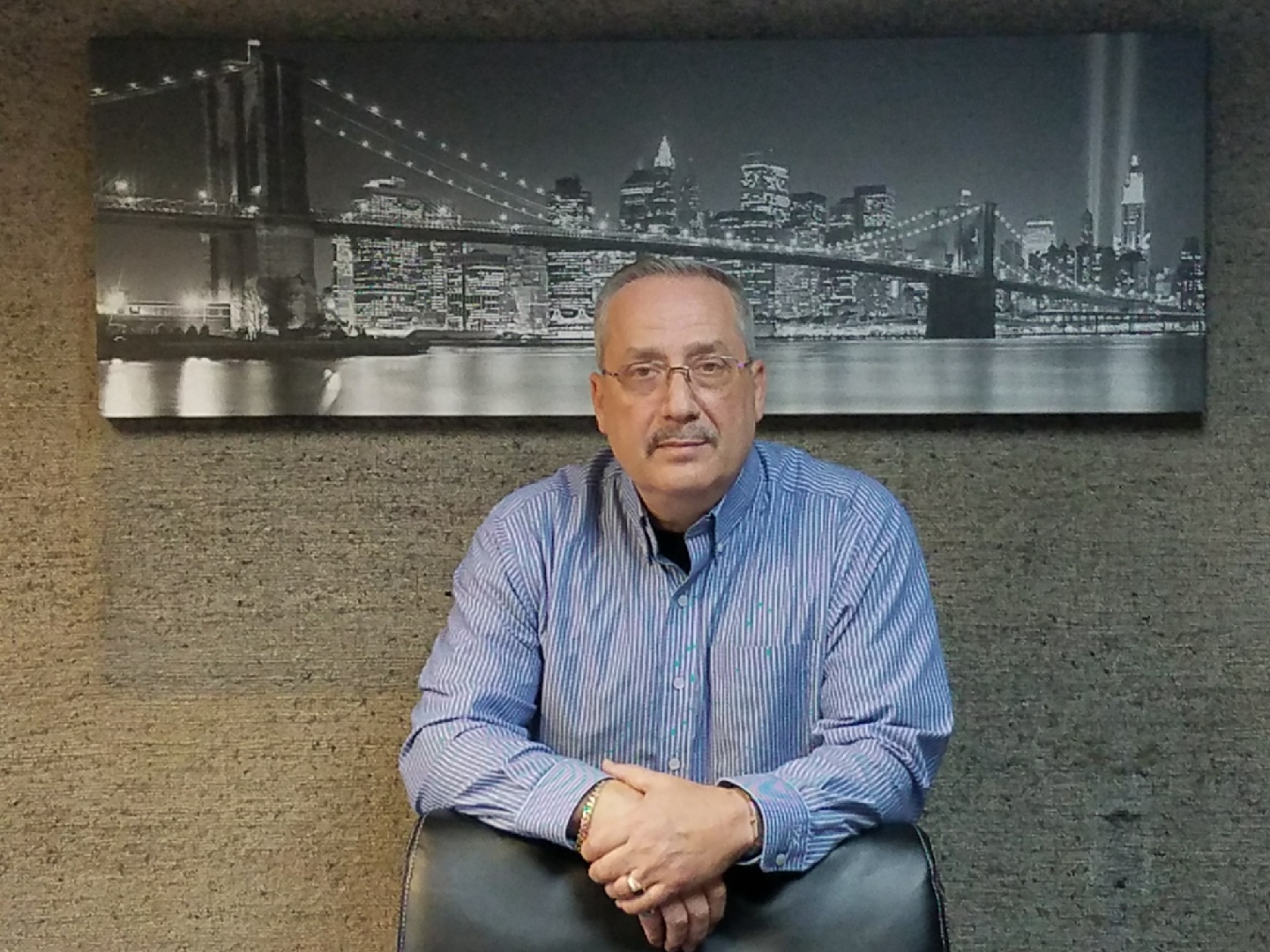 Support and Service
Our support team has your back. Whenever you need assistance, a real human is only a phone call away waiting to help you with any issues you have or changes you need made.

On-time Delivery
Our delivery team goes the extra mile. With trucks running routes in New York, New Jersey and Connecticut every day, you can be sure your clean uniforms, floor mats and linens will be there when you need them most.

Personalized Programs
Our business is built to handle your specific needs. After decades of service, we know well that no two businesses are alike. That's why we built Superior Uniform Services to handle the demands of all sorts of different operations.

Family Owned and Operated
Our family cares and sweats the small stuff. We recognize that a napkin is part of a dining experience; that a floor mat is part of a first impression. We like to think of ourselves as your strategic partners, helping you be your best every time.

Straightforward Pricing
Our pricing model is simple. When you choose Superior Uniform Services, you can rest assured that our agreement will be transparent and there will never be any sudden price fluctuations.
How The Superior Uniform Service Works?
Each week, Superior will pick up your soiled garments, and return your cleaned garments from the previous week.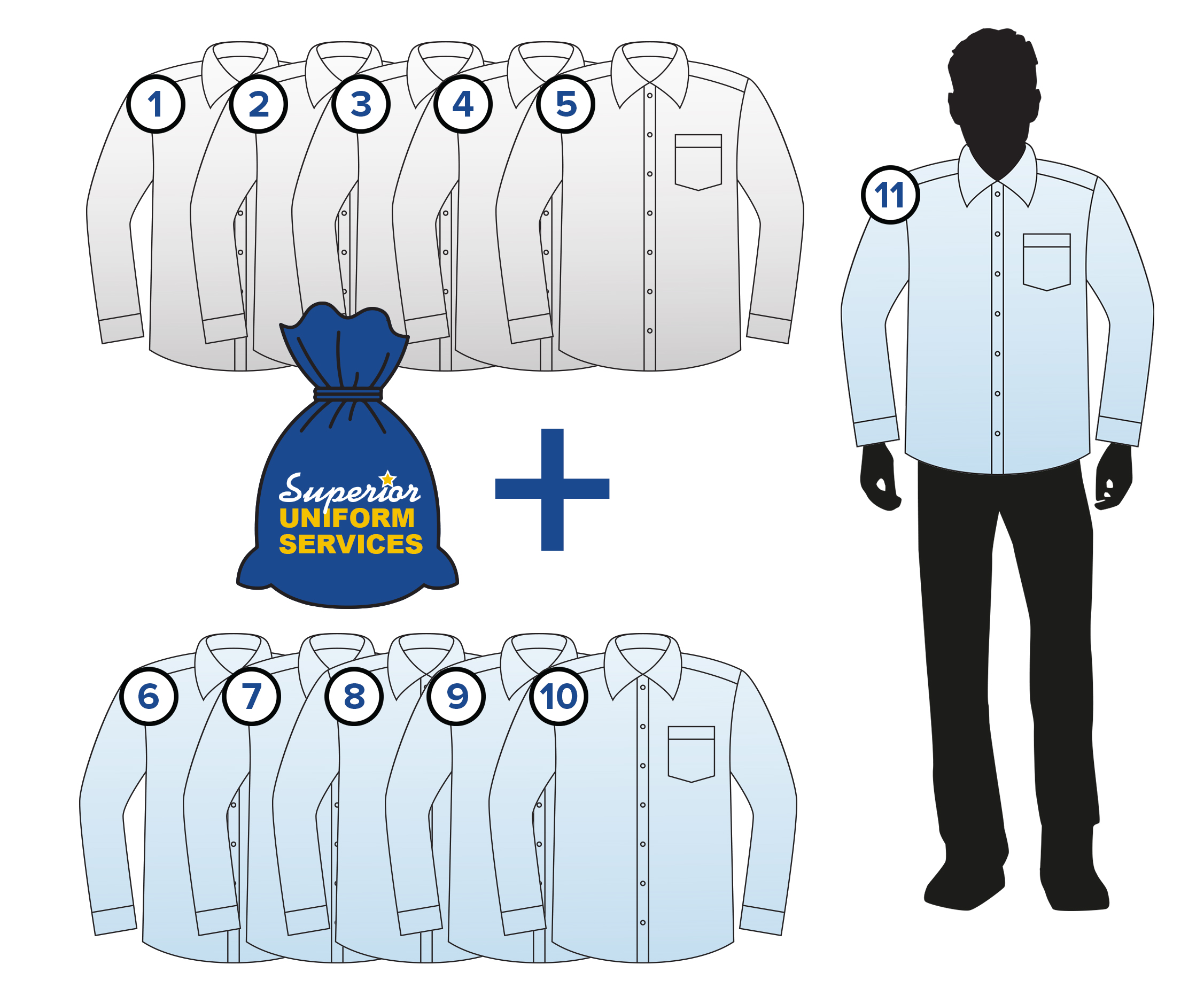 *Your standard 5 garment/week rental
Are looking to make a transition?
Interested in seeking a new vendor, or looking for a vendor to take on new responsibilities?   We make the process seamless and simple.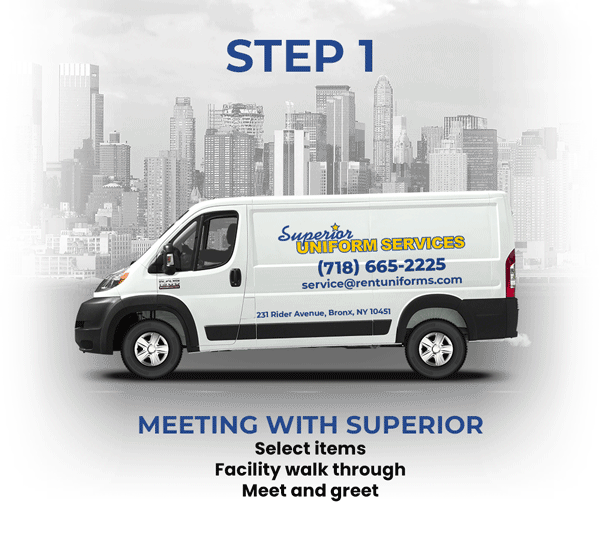 Ready to Create a Uniform Rental Program that fits your needs
If you need a company that will go above and beyond to serve your needs as a business look no further. Whatever it is, this family owned business will make it happen. They have a great selection of uniforms and help you every step of the way to bring your vision into reality. Thank you Superior!
Patrick Smith
July 19, 2019.
The guys at Superior Uniforms are great. They are provide best customer service. Great Experience with Superior Uniform Services.
Mike Vivchar
August 25, 2018.
As a owner of small transportation company I needed some shirt designs. Came across superior uniform company spoke with owner mike, helped me design everything and pick the right colors. Very glad I used them and will use them from now on for all my uniform needs. Highly recommend them to all my friends. Very pleasant people to work with.
daniel gonzalez
June 28, 2018.
Great place to work!
David Castaneda
May 3, 2018.
These guys know what they're doing. Their customer service is second to none, and their products are always impeccable. Thank you guys, you make our business a better place!
Marco Buritica
March 27, 2018.
The guys at Superior Uniforms are great.
David Chan
March 27, 2018.
Have been using these guys for years. Very happy with the services provided.
Work Uniform Rental Service Includes





Frequently Asked Questions
WHAT TYPES OF UNIFORMS DO YOU OFFER?
We have uniforms spanning various categories, including: Food Service, Food Processing, Restaurant, Executive, Facility Services, Automotive, Industrial, Healthcare and Cleanroom.
DOES MY COMPANY NEED TO HAVE A CERTAIN NUMBER OF RENTALS TO RECEIVE WEEKLY SERVICE?
Yes – we require our rental clients to have 4 or more people who require regular uniform service. We make exceptions for our clients who meet our $35 per week minimum charge by renting other products like floor mats, towels or linens.
Is your business primarily a laundry service or uniform business?
Many people mistake us for a laundry service. We do actually launder the uniforms but that is incidental. We are a uniform rental service. It is our responsibility to make sure the employees look clean and professional. If you have service technicians meeting with your customers, you want them to look presentable.
ARE YOU ABLE TO ADD MY COMPANY LOGO TO THE UNIFORM?
ABSOLUTELY! this is a common request among our clients. Almost all of them have their company's branding on their uniforms and you can too.

Cash or Check on Delivery