Uniforms are a cornerstone of any successful business
They maintain a consistent, professional image for your customers, improve the safety of your employees, and help bring your people together as a team, boosting morale and productivity.
Uniform Rental Service Includes





=

Minimal cost to begin

=

Weekly laundering and pressing to keep your team looking professional

=

Superior-quality apparel for all business needs

=

Various fabrics, fashions and colors to suit your brand

=

Personalized embroidery to promote your brand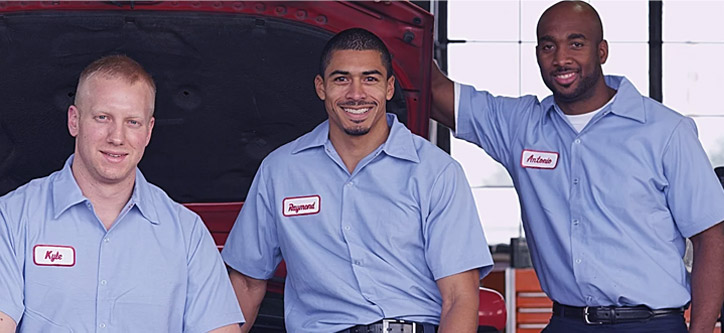 How The Rental Plan works

Choose uniforms that will showcase your brand the best and help your employees feel great

Take measurements of each employee to determine the best sizes for everyone

Customize your uniforms with logos, names and various other options available

Receive fresh uniforms professionally laundered with each delivery

Pick up your soiled uniforms and bring them back to our cleaning facility

Regularly inspect garments to identify repairs or replacements needed to maintain your brand
ARE YOU ABLE TO ADD MY COMPANY LOGO TO THE UNIFORM?
ABSOLUTELY! this is a common request among our clients. Almost all of them have their company's branding on their uniforms and you can too.
WHAT TYPES OF UNIFORMS DO YOU OFFER?
We have uniforms spanning various categories, including: Food Service, Food Processing, Restaurant, Executive, Facility Services, Automotive, Industrial, Healthcare and Cleanroom.
DO YOU SELL UNIFORMS?
Yes – in addition to our uniform rentals, we also offer company uniform purchasing in addition to single-piece purchases.
DO YOU REPAIR AND REPLACE DAMAGED UNIFORMS?
Most standard uniform repairs like missing buttons and small tears are included in our service agreements. 
IS A SERVICE AGREEMENT REQUIRED TO GET STARTED?
Yes – we require at the minimum, a standard agreement so we can provide you with superior service.
DOES MY COMPANY NEED TO HAVE A CERTAIN NUMBER OF RENTALS TO RECEIVE WEEKLY SERVICE?
Yes – certain minimums apply, please contact us for more details.
Is your business primarily a laundry service or uniform business?
Many people mistake us for a laundry service. We do actually launder the uniforms but that is incidental. We are a uniform rental service. It is our responsibility to make sure the employees look clean and professional. If you have service technicians meeting with your customers, you want them to look presentable.